The Digital Dopamine Disease
Mindset Monday #3
Hey Crew,
Welcome back!
Digital dopamine addiction is this generations alcoholism.
Your mind is under attack and your mental health is taking a beating, from cheap dopamine.
It feels like I write about this a lot, but the truth is, I don't feel like I write about it ENOUGH.
The damage people are suffering nowadays is hard to witness and although you can say some of it is self inflicted, it's also part of a cleverly planned attack.
I'm talking specifically about smartphones and media/ social media.
Mindlessly consuming negative news, constantly searching through Google on your smartphone and immersing yourself in social media drama, may not seem much on the surface.
But you need to be aware of the damage you're doing to your subconscious mind and your spirit soul.
All this negativity, drama and chaos is affecting you more than you may think.
But this isn't just about the negative energy these things produce, it's about something a whole lot more.
We're at a stage now where some of the most common things people are struggling with are created from their use of technology, and the technology deemed important to their lives.
Smartphones, and in particular, social media platforms, are cleverly designed to give you a fully immersive experience.
How many people online do you see complaining about the amount of time they spend on social media, or about how it's impacting their lives?
A lot of people can't stop using social media for fear of missing out. They have become addicted to the constant notifications, vanity metrics and they need the attention.
I imagine mental health issues are lower in countries with less technology, especially social media via smartphones.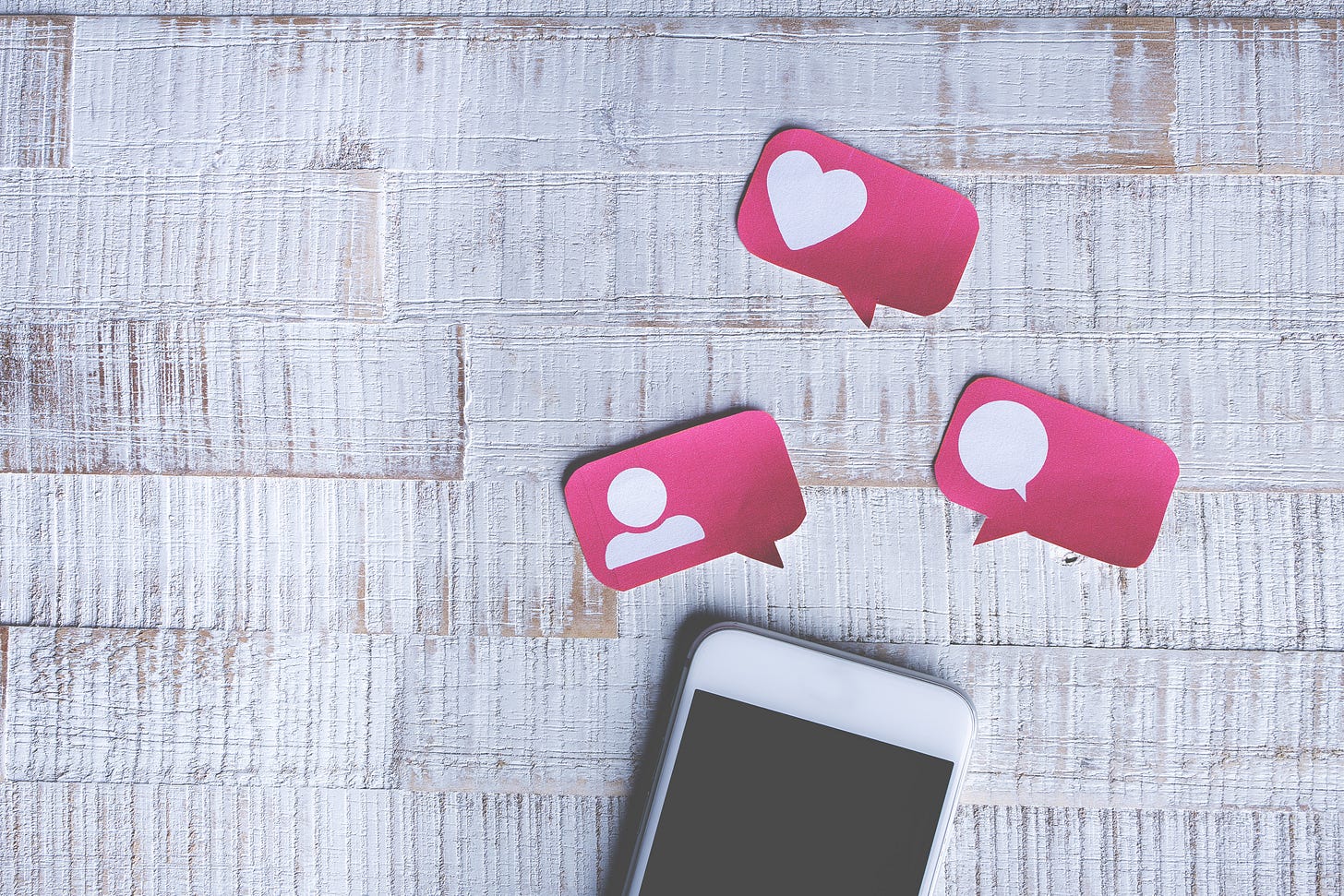 Photo by Cristian Dina from Pexels
Unsociable social media
Since social media started consuming everyone's lives, the world has become less social with more and more people isolating themselves from real human connection having replaced it with someone at the other end of a computer.
You may argue that that is real connection, but from my point of view, it's not.
And believe me, I've fallen into this trap.
By using social media as your only means of socializing, however many friends you have on the various platforms, you risk isolating yourself from the real world.
This'll be detrimental to your mental health in the long run.
Yes, make friends online, but also make sure you have a valuable social life offline too.
All this rise in immersive technology has created a sense of us being social and together, yet in reality, the opposite has happened.
Social media has created a generation less connected than ever.
We're also seeing people losing their identities too. Or rather, creating new identities for themselves. They are becoming completely different people from who they are in real life.
They're allowing vanity metrics dictate the direction of their life and changed their identity.
They're changing their voices to appease their egos.
But when they can't live up to the personality they've built online, that is when the mental health issues begin.
This is the trap set my social media inventors/ creators.
Digital dopamine is a powerful drug and they know people will be scrambling to get their fix.
People will share their most intimate and personal secrets just to score more dopamine from the attention they get, because social media rewards those who share their lives with the world.
This is no coincident.
Cheap dopamine
These cheap dopamine hits have got people selling their bodies, souls and dignity for likes and RTs.
This cultural disease is one of the strongest addictions ever created.
Don't sell your soul for cheap dopamine hits.
Digital dopamine hits are a wrongly taken shortcut on the road to true fulfillment.
Your obsession with vanity metrics will have your mind focused on social media all day waiting for the next;
Like, RT, Comment or Reply.
Digital dopamine hits are hollow and leave you unfulfilled. Unfortunately, they are now being tirelessly consumed by those addicted to the response they get from them.
Constantly feeding yourself dopamine hits from screens and devices is training your brain to rely on them for your gratification, and when you're continually chasing the hits the dopamine level drops will only get deeper as the hits are superficial.
People are chasing what produces dopamine so if they keep exposing themselves to these quick, cheap and easy dopamine hits, more receptors will be created for more dopamine.
That's where the addiction comes in.
There's no dopamine in dealing with adversity. That's why people run away from their problems, it lowers dopamine.
Getting your dopamine hits from your digital consumption is never going to fulfill your needs. Just like drugs & alcohol, you're going to need to 'use' more in order to reach the 'highs'. However, porn, social media, gaming and gambling are not long term options.
DON'T BECOME A DIGITAL DOPAMINE JUNKIE!
Start making healthy choices.
Conclusion
Your smartphone, social media, porn and gaming are designed to keep your attention, so it's no wonder that when you're using them it's hard to put them down, and even harder to stop picking them back up again.
Give your brain a much needed rest and stop the digital dopamine hits.
These cheap dopamine fixes can easily be avoided.
"If you've got time to scroll, you've got time to stroll"

- BirthofClarity
Show true strength and get your dopamine hits from real life, by taking some time away from your devices and escaping the digital dopamine hits.
Make a new connection with someone you meet offline

Go for a walk in nature

Go out for dinner with friends

Go swimming in the sea

Go crush a heavy workout

Have sex with your partner

Do a good deed without seeking anything in return

Get some fresh air

Mentor someone

Create something from scratch
Get your gratification and your dopamine hits via healthier means.
Your brain will act on a higher level once you allow it to continually experience natural dopamine hits. Exercise, connection and positivity will trigger your body's ability to produce this powerful commodity.
I fear for the next generation of children who are being raised by those born into this diseased culture.
Parents complaining about spending time with their kids... online... to strangers... for vanity metrics... to get dopamine hits... which they're addicted to.
Parents sharing their whole lives online… including their naked bodies… to strangers... for vanity metrics... to get dopamine hits... which they're addicted to.
It is a disease.
One way to beat your reliance on digital distractions is by withdrawing from the immersive social media platforms, unplugging and getting out into nature.
The constant dopamine hits, and FOMO, caused by this instant gratification culture is messing up your mind.
Break free.
Digital dopamine hits are not a shortcut to happiness. Higher consciousness can't be reached via cheap dopamine.
It's time to take a digital break.
Don't get your dopamine hits from your smartphones or social media.
Get them from nature instead.
Take care,
Roscoe
If you've enjoyed what you've read, then why not Buy Me A Coffee
Follow me on Twitter
Check out more quality content via the Birth of Clarity Website
Join the Tribe @ Tribe Media
Find other ways to support me via these Links
---
This week's edition of Mindset Monday is sponsored by:
---